We are pleased to share with you the shortlisted finalists from our two 2023 elective* awards. These applications, selected internally by GDS-Movement changemakers, have been passed on to two external panels whose judges will select a winner for each.
Top 6 Tourism Innovation Initiatives
The GDS-Movement Innovation Award recognises and showcases a destination using innovative solutions to drive sustainability performance.
Shortlisted Innovation Award finalists (in alphabetical order):
1. Banff & Lake Louise, Canada, for the Community Impact Programme by Banff & Lake Louise Tourism
2. Bordeaux, France, for Bordeaux Solid'AIR from Bordeaux Tourism & Conventions Office
3. Edmonton, Canada, for the Responsible Events Programme from Explore Edmonton
4. Gothenburg, Sweden, for Secondhand Safari from Göteborg & Co
5. Tampere, Finland, for Outdoor Express from Visit Tampere
6. Washington, DC, United States of America, for the Diversity, Equity, and Inclusion (DEI) Business Fellowship from Destination DC at Washington DC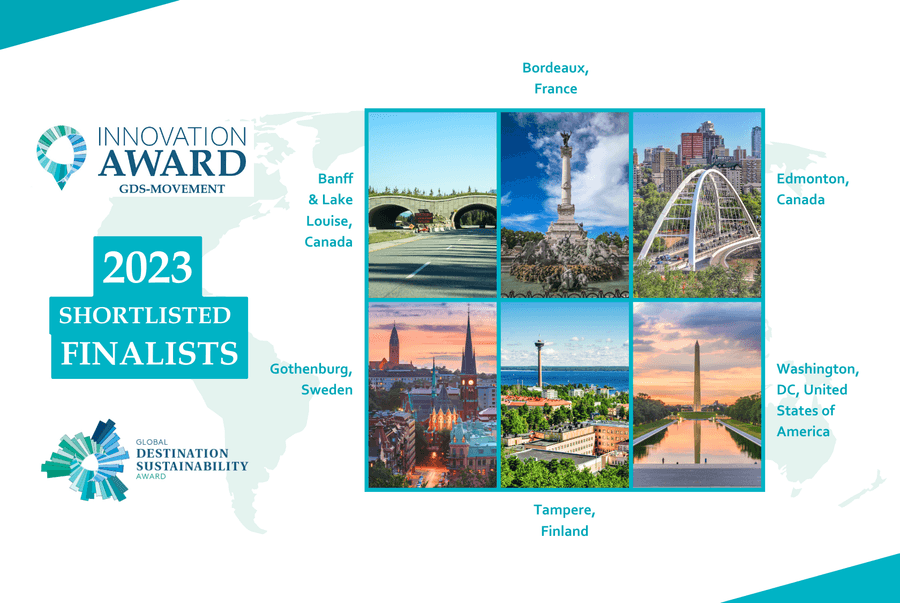 We would like to thank our valued Innovation Award judges. They are thought leaders and industry experts who will together decide the winner.
– Flavie Baudot (de Bueil), Chief Operating Officer, CityDNA
– Jac Callan, Sustainability and Impact Manager, Visit Belfast (the 2022 Innovation Award winner)
– James Lancaster, Editorial Director, Northstar Meetings Group
– Roger Lehner, Senior Operations Executive, IMEX Group
– Tamara Bernstein, Regional Director, Europe, ICCA
We thank them warmly for their valuable contributions!
Top 5 Business Event Impact Initiatives
The new GDS-Movement and #MEET4IMPACT Impact Award acknowledges and celebrates a destination management organisation committed to legacy and impact through business events. It is a collaborative initiative developed by GDS-Movement and #MEET4IMPACT.
Top 5 Impact Award finalists (in alphabetical order)
1. Flanders, Belgium, for The Legacy Project (2021 – 2023) from VISITFLANDERS
2. Glasgow, Scotland, for Positive Impact Team from Glasgow Convention Bureau
3. Gothenburg, Sweden, for the Gothenburg Way to Legacy project from Göteborg & Co
4. Ireland, for the Impact and Legacy Programme from Fáilte Ireland and Meet in Ireland
5. Sydney, Australia, for the Social Impact Methodology and Framework from Business Events Sydney (BESydney)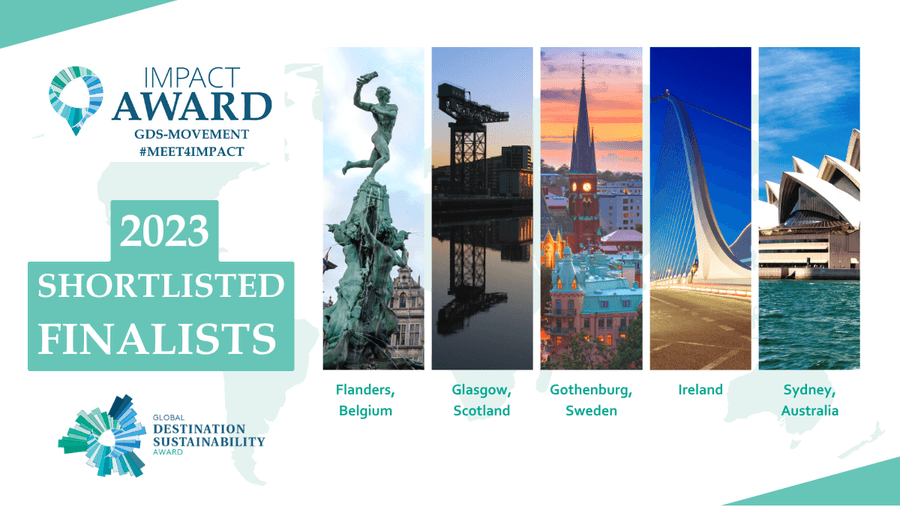 We are deeply grateful to our esteemed Impact Award judges. They are thought leaders and industry experts who will together decide the winner.
– Ben Hainsworth, Executive Director, EASL
– Caroline Mackenzie, Director, ISHA
– Chloe Menhinick, Head of Marketing, Kora Sustainability
– Jane Cunningham, Director of European Engagement, Destinations International
– Remi Deve, Chief Editor, Boardroom Magazine
We are deeply grateful to them for their input and support!
Meet the winners in October
We'll announce the winners on 4 October during the 2023 GDS-Awards ceremony, hosted with our long-time partner, ICCA, at GDS-Forum, which is brought to you by VISIT VALÈNCIA, CityDNA, and GDS-Movement. GDS-Forum attendees are invited to join in person, but anyone can meet the winners at our dedicated Feeling the Pulse webinar soon after. Register now to save your place:
Register for the 11 October session at 09h00 here
Register for the 12 October session at 17h00 here
The year's GSD-Index results will be live on our website shortly thereafter.
For now, a warm well done to these 10 destinations, and a special thanks to all applicants. Even if you weren't shortlisted this time, we want to emphasise that it's more a "not now" than a "no". The GDS-Index has hard data proving that continuous effort combined with an attitude of "progress over perfection" leads to improvement with the potential for exponential positive impact. We hope that all destinations will keep at it and continue to co-create "destination positive" with us.
* We also have 2 non-elective awards which are determined by data captured in the year's GDS-Index. These are the Leadership and the Most Improved Destination Awards. Find out more here.