Destinations coping with tremendous shocks can develop more engaging and purposeful story and communication action plans to catalyse environmental, economic and social regeneration with GDS-Academy.
GDS-Academy is brought to you by ICCA and ECM and offers a range of engaging, inspiring courses to the destination professional. In the Storytelling and Communication Strategies for Regeneration masterclass, we invite you to immerse yourself in collaborative learning.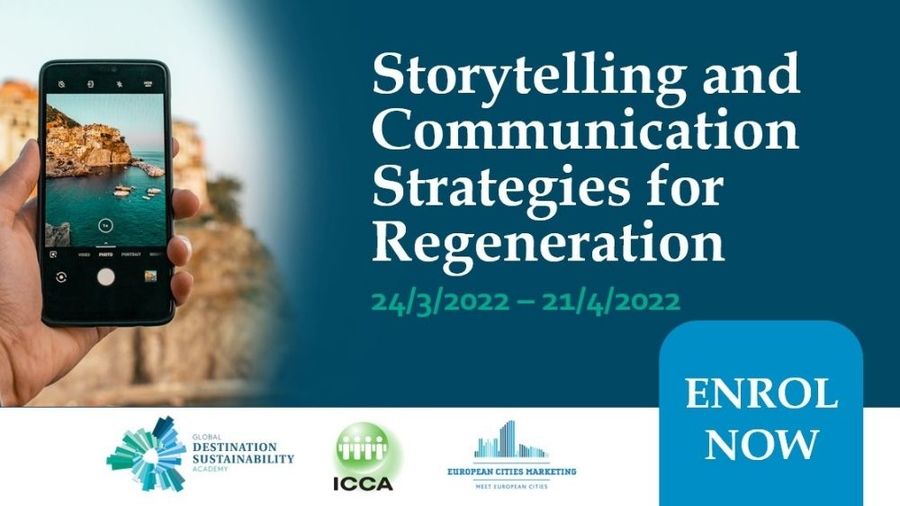 What this course offers
This dynamic and fun course explores the power of story and how it can impact change in the most rewarding way.
Who you'll learn with (and how)
It is facilitated by chief storyteller, Melissa Baird. She is joined by Chief Changemaker, Guy Bigwood, Resident Futurist, Ed Gillespie, and a host of guest experts including Xavier Font, professor at University of Surrey, Birgit Liukkonen, Helsinki Partners Marketing, Anne-Signe Fagereng, Director of Marketing at VisitOslo, Rob Holmes, Founder of GLP Films, Dan Holowack, Co-Founder and CEO at CrowdRiff and Localhood, and Sigríður Dögg Guðmundsdóttir, head of Visit Iceland.
We encourage students to engage directly with experts and their proven methodologies, to collaborate and find strength and insight together, and to embrace strategic action as an approach to a changing, challenging world.
GDS-Academy courses are designed to be more than immersive, however, but also a service to students, who find the community-building aspect of the modules valuable and inspirational.
What we cover
We dig deeper into traditional communications strategies, discover how sustainability can enhance their purpose, unearth remarkable examples of destination best practise, embrace biomimicry and its principals, delve into living systems thinking, and unpack behaviour change methodologies.
What you'll gain
– Increased knowledge of sustainability brand marketing, best practices, and behaviour change.
– Ability to use a new toolbox of approaches and templates to persuade, influence, and inspire.
– Enhanced brand story and improved communications strategy techniques.
Find out more or enrol now