Financial and fashion capital, home to Italy's only stock exchange, Milan, Italy, is a bustling business and leisure destination that actively invests in its sustainability. It makes its next strategic move in style, joining the Global Destination Sustainability Index (GDS-Index). And it is perfect timing now that the city is experiencing a full renaissance after the pandemic with tourism officially returned to pre-Covid levels in the second quarter of 2022. According to data obtained by Milano&Partners,  a third of incoming tourists are young people under the age of 30.
The GDS-Index's top 20 sustainable destinations in 2021 include Copenhagen, Brussels, Glasgow, and Melbourne. With a history of policy actions and initiatives since 2015 to achieve its environmental and socio-economic sustainability goals in line with EU and UN priorities, Milan is confident it will join the 2022 list.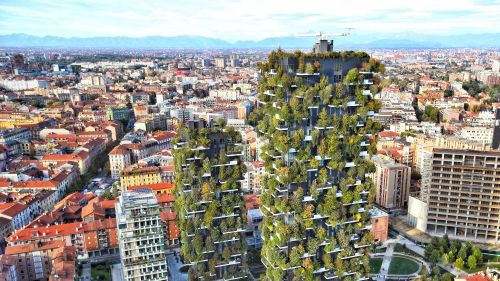 Milan consistently reduces its carbon footprint by
– creating new parks and planting 3 million trees,
– expanding public transportation with 2 new subway lines and supporting innovative projects for sustainable mobility as MAAS, which integrates public and private transport services (e-bike, bus, car share, train, taxi, plane) and is accessible to the users through a single digital channel,
– restricting car access by engine type across the whole city (Area C and Area B),
– expanding green mobility through "15-Minute-City" principles, and
– encouraging cycle commuting with new bike lanes and world-class public and private vehicle-sharing services like the municipal BikeMi.
Waste Recycling and Food Policy
Milan takes sorting, recycling and upcycling of waste seriously. It achieves a high percentage of separated waste collection, 62,4% , and its private companies are drafting and implementing plans for a resilient circular economy. As a legacy of Expo 2015, the city adopted an innovative Food Policy to make the Milanese food system more sustainable. It fights food waste by putting specific food aid actions in place, like the Food Waste Hubs which gather unsold food supplies to feed the economically challenged, and won Prince William's 2021 Earthshot Prize.
Social sustainability
Cosmopolitan Milan is a gender- and socially-inclusive city, home to a large LGBTQ community, with two queer-friendly neighbourhoods, Porta Venezia, also known as the Rainbow District, and NoLo/Via Sammartini.
The city administration is devoted to expanding day care and public housing, strengthening civic networks, and providing new services (welfare, digital, culture).
A mutual goal
"We expect Milan's participation in the GDS-Index to act as a stimulus for the city to further improve its commitment towards sustainability and to consolidate it in view of the Milano Cortina 2026 Olympic Games. We believe it is important to undertake a long-term process of external assessment in order to understand the city's standing with respect to other cities and to exchange with them best practices in environmental remediation," says Elena Vasco, Secretary General of the Chamber of commerce of Milan Monza Brianza Lodi.
"Milan is a global hub of creativity, style, and design, thanks to the thousands of young people – Italians and those from all over the world – based in Milan," adds Luca Martinazzoli, General Manager of Milano&Partners. "Milano's current development strategy is oriented towards sustainability and inclusion. Joining GDS-Movement is a milestone towards these goals."
"We welcome Milan with open arms," says Chief Changemaker, Guy Bigwood. "Milan is the first Italian city in the GDS-index. They have a solid city sustainability strategy and are well-placed to invest in their tourism and events strategy, and to inspire others in Italy and around the world to raise their sustainability game."