Strasbourg is stepping up its support of tourism and events that help people, place, and planet to flourish.
"The Eurometropole of Strasbourg and Strasbourg Convention Bureau are very motivated to join the GDS movement in order to deepen our commitment for a more sustainable events and tourism industry," says Mireille Dartus, Director of Strasbourg Convention Bureau. "We are driven by three main objectives:
Evaluate what level of involvement we have as a team and as a DMO, and how we can improve
Be a leader in the Eurometropole of Strasbourg in order to appraise how good the territory is doing in 2023, and even more so, engage in improving the sustainability of the destination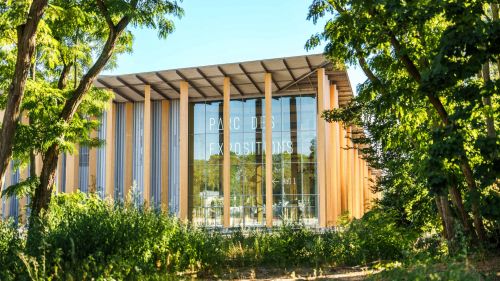 Create a dynamic movement within the community of the local MICE industry: hotels, venues, caterers, event agencies, transport, and activity providers".
The Eurometropole and the city have launched a variety of initiatives including a 2030 Climate Plan, and a Climate Agency supporting stakeholder sustainable actions. The Eurometropole of Strasbourg also offers a variety of soft-mobility transportation options for residents and visitors thanks to extended cycling, tramway and train network. The metropole's "Objectif Z: Zero Déchet, Zero Gaspi (2021 – 2026)" focuses on reducing, reusing, and recycling waste. In addition, the city has a dedicated plan to reduce discrimination using communication and education. Strasbourg is surrounded by a preserved Green Belt and launched the Plan Canopée in 2020 to rewild the city and preserve its biodiversity.
The Convention Centre and Exhibition Centre in Strasbourg and the Zénith of Strasbourg hold ISO 9001, 14001, or 20121 certifications. The city has received several accolades for its sustainability efforts, including the Smart Mobility City Awards in 2015 and French Capital for Biodiversity in 2017.  The Strasbourg Convention Bureau will also endeavour to support our partners in getting new recognitions.
Through the GDS-Index participation, the Eurometropole of Strasbourg hopes to communicate their sustainability efforts more efficiently, learn from other destinations in the GDS movement, and build Strasbourg as a more sustainable destination. The GDS-Index will impact policy development at the local, regional, and international level by encouraging all stakeholders to work together towards a more sustainable future. The Strasbourg Convention Bureau is eager to take advantage of the GDS expertise to guide and support local stakeholders in their commitment to sustainable tourism.
"We welcome Strasbourg and are excited to support the CVB and the city to leverage and deepen its commitment to a more sustainable visitor economy that increasingly delivers positive social, environmental and economic impacts," says Guy Bigwood, CEO and Chief Changemaker of the GDS-Movement.