The GDS-Index is a destination-level programme that promotes scalable sustainability and responsible practices among tourism destinations globally. It measures, benchmarks, and suggests improvements for the sustainability strategy and performance of tourism and events each year. 
The annual review and update of the criteria and methodology aim to ensure continuous improvement and progress towards more regenerative destinations. 
Each year, the GDS-Index criteria undergo an in-depth revision following consultation and input from participating destinations, the GDS-Movement Team of Assessors, and then an in-depth improvement process conducted by the Technical Advisory Committee (TAC), comprising 15 tourism, academic, and sustainability experts.  
For 2023, based on feedback from destinations, the TAC and GDS-Movement decided to make minimal updates to the 69 criteria and focus on four significant improvements.  
1. A thorough review and improvement of the guidance and criteria questions make the submission processes easier for participating destinations. 
2. New questions include assessing DMOs with a diversity, equity, and inclusion (DEI or EDI) programme, and assessing destinations' top 10 visitor attractions. 
3. Changing the certification requirements for 2023 only, to allow suppliers with environmental certifications (e.g. Swan) to gain points (but in 2024 the types of accepted certifications will be stricter).  
4. The review and improvement of the scoring rubric better rewards areas where destinations are making the most impact.  
As part of the GDS-Index's efforts to manage a benchmarking programme that supports regenerative destination management, 2024 will see a major update, particularly around DEI, measurement, and climate. The criteria development update will start in April 2023, led by the GDS-Movement and in conjunction with the TAC.
For More Information
– Access to the detailed criteria is available to participating destinations in the GDS-Index's Omni toolbox. 
– Interested parties can download the 2023 methodology from www.gds.earth.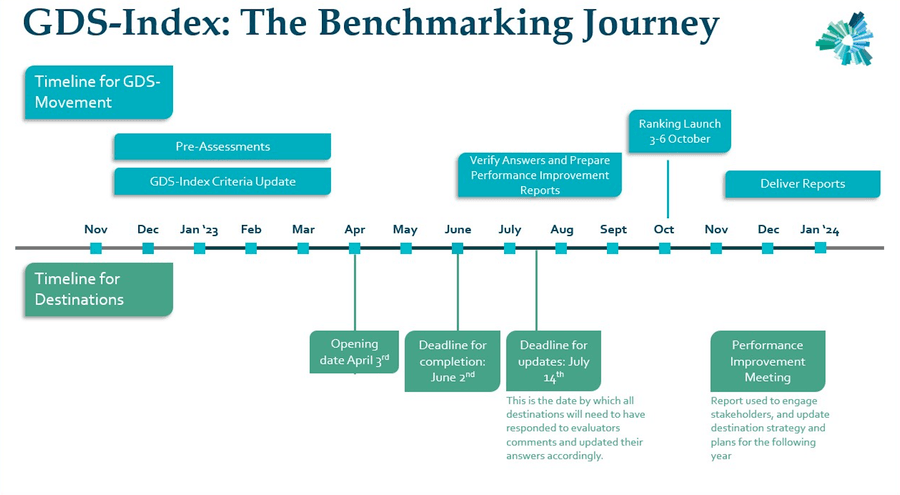 The 2023 TAC includes (in alphabetical order) Catharina Cecilie Aas, Head of Sustainability, Wonderful Copenhagen; Hildur Björg Bæringsdóttir, Director of Research and Lead Generation, Meet in Reykjavík; Julie Benisty, Head of Sustainability, Bordeaux Metropole Tourism and Congress; Jac Callan, Sustainability and Impact Manager at Visit Belfast; Fanny Beaulieu Cormier, Sustainability Manager, Tourisme Montreal; Loren Christie, Director, Business Development & Strategy, Canada's LGBT+ Chamber of Commerce; Xavier Font, Professor of Sustainability Marketing, University of Surrey; Lara Gallmann, Sustainability Manager, Zürich Tourism; Lone Bak Kirk, Sustainability Manager, VisitAarhus; Shelby Luzzi, Chair Sustainability Task Force, Destination DC; Marine Moustier, Head of Responsible Tourism, Lyon Tourism and Congress; Kristin Oishi, Sustainability Manager for VisitOSLO;  Melissa Radu, Director of Social and Environmental Sustainability, Explore Edmonton; Pat Satkhum, Senior Manager, Sustainable Development, Thailand Convention & Exhibition Bureau; and Alenka Soršak, Sustainability manager at Ljubljana Tourism. We thank them for their valuable input.
If you're interested in measuring and improving your destination's sustainability impacts, click here or contact us. 
About the GDS-Index: The Global Destination Sustainability Index (GDS-Index) is a destination-level programme that measures, benchmarks, and improves the sustainability strategy and performance of tourism and events destinations. The GDS-Index is the first-ever sustainability benchmarking and performance improvement programme that focuses on destination management organisations (DMOs) and Convention bureaus (CVBs). The programme was launched in 2016 and has been recognised as a leading example of sustainability in the tourism and events industry. 
About GDS-Movement: GDS-Movement envisions thriving places and communities activated by regenerative tourism and events. Its mission is to empower people with the mindsets, skill sets, and toolsets to create regenerative destinations to visit, meet, and live in.