Flavie Baudot, acting Head of European Cities Marketing (ECM), noted recently, "last year, despite this challenging COVID crisis, DMOs were in almost-total agreement that the crisis would lead the land of travel and tourism towards a more sustainable future." The 2021 GDS-Index results support her assertion.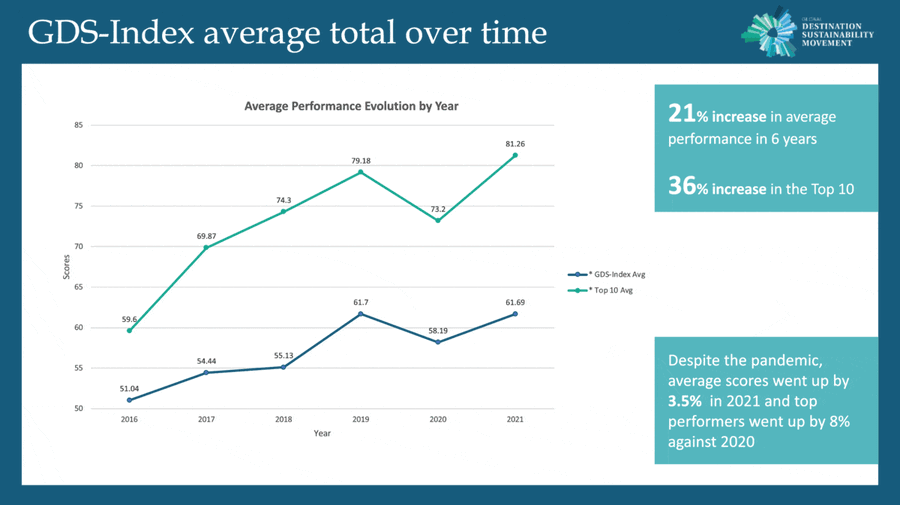 Each year, the GDS-Index benchmarks destinations in terms of their sustainability performance. It currently comprises 71 criteria across four categories – supplier, social, environment, and destination management. Innovation is a natural and intrinsic part of this that cuts across all categories and indices. It is so powerful in its ability to support and develop regenerative destination management that it has an award of its own.
The GDS-Movement Innovation Award recognises remarkable, scalable, and globally applicable solutions driving a destination's regenerative management each year. In 2021, it was decided by an independent panel of experienced event professionals and sustainability leaders. Candidates submitted an application describing their solution to common challenges in sustainability practice. This year's Innovation award was won by Copenhagen Convention Bureau, Denmark, for its "Copenhagen Legacy Lab", that facilitates congresses with long-term, positive impact for both associations and destinations.
Flavie was one of the independent judges who assessed the 2021 GDS-Movement Innovation Awards. Her fellow judges included Idoia Rodés-Torróntegui, President of MCI Benelux; Roger Lehner, Senior Operations Executive of IMEX Group; James Lancaster, Editorial Director of Northstar Meetings Group; and Tamara Bernstein, Regional Director of ICCA Europe.
If, like them, and like GDS-Movement, you believe in inclusion, accountability and creativity, you hold the key to positive change along with Aarhus, Bordeaux, Copenhagen, Faroe Islands, and Helsinki. These destinations submitted initiatives with winning regenerative attributes that got them into the top 5 finalists list and impressed the judges, who gave feedback in quotes below. Can you guess which aspects of living sustainability strategy belong to which destination?
5 ways to win at Innovation in Business and Leisure Tourism
1. "It's easily replicable in other destinations. Goal-setting and measurements are implemented seamlessly."
2. "I love the change in perception of the tourist becoming a friend and not being a stranger, somebody who cares and who is engaged with the destinations (s)he visits."
3. "I love how the local community is involved so deeply in this initiative."
4. "The initiative has high transferability factor, and measurements are built in from the outset."
5. "What I think is a tangible, very innovative outcome is that the initiative changed the business model of the CVB."
Innovation isn't about isolated efforts alone, though, it's also about legacy and longevity, both of which are empowered by measurement and reporting. The finalists' submissions embodied this.
"What struck me most, apart from the story-telling flair," James says of the entries overall, "was the analytical rigour on display. Cities are waking up to the fact that the results of positive action have to be measured – and reported – to help create a virtuous circle of innovation and progress."
We salute all who entered and look forward to more winning innovations in 2022.
ANSWERS :   1. Bordeaux (Roger) 2. Faroe Islands (Idoia) 3. Aarhus (Roger)4. Helsinki (Roger) 5. Copenhagen (Idoia)